Alexa Skills, Chatbots & Conversational AI for Learning & Development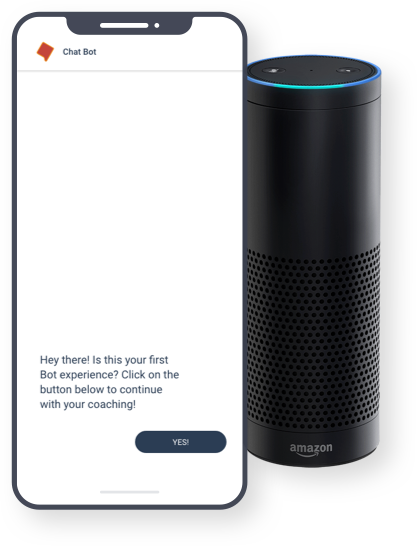 Experts for Interactive Learning
Conversational interfaces lift E-Learning to the next level. Create better results through digital training partners that help:

Train Communication Skills
Unlike classical video courses conversational interfaces react to the communication of the user and train real life workplace communication.

Change Behavior
In the end training-success is measured in observable changes in human behavior. Coach-Bots are great training partners to change behavioral patterns.

Access Knowledge Easily
There is way more information that we can process. Ask your Bot – he knows the answers to your most pertinent questions best whenever you need it.
Customer Cases
The usage field is super wide. Here are some exciting custom solutions from our portfolio.
Coach Bots
This Coach-Bot supports participants of an agile leadership training before, in between and after training sessions. It has been didactically designed to connect the content to a fascinating story so participants can easily learn a new toolset, at the same time train their skillset and reflect with the bot to expand their mindset. Voice Coach (Alexa)
The task was to help users develop on-going self learning processes to improve work performance. So we created a voice based coach for Amazons Alexa that helps users to reflect their workday. How was it? Was it good or bad? And why? By interacting with a bot users e.g. work on their self-management, solve conflicts or set priorities.
Knowledge Management
Most knowledge databases are not very user-friendly. Often you have to know the exact wording of what you are searching for to find the result you need. With the use of our information retrieval technology employees can find the informations they need in a natural and fast way – whenever they need it. Just ask the bot in natural language and he'll get you the answer. Features For All
We are training experts ourselves and we couldn't find interactive elearning solutions that fit our needs – so we hat to build them ourselves.
Here is where we go one step further:
Conversational AI
Conversational Interfaces create communication experiences. Just like in real life interaction is more natural and effective than classical Elearning.
Information Gathering
Are you curious what your learners want to learn or have learned? Why not let your EduBot to ask them?

Reflection
People don't learn out of experience, they learn out of reflecting those experiences. What better than to have a personal coach, that asks the right questions?

Personality & Storytelling
Bots create more engagement through connecting to users by their personality and interactions in a storytelling way.

Reminder
Sometimes a gentle reminder via push message to a cellphone helps us to transfer an intention into tangible behavior – or would you like to invite to a little challenge?

Gamification
Elements of Gamification drag users even more into story's and challenges. Create interactive learning experiences with gamification elements to make them even more effective.
The Process
For better results we have invented a structured process to create the best learning experiences for your learners.

Consulting
We know how to build bots in e-learning. So we start with developing a project charter that its all about your needs and the needs of the learners.

Creation
Our main focus is always on the didactics of the training goals. We create stories, games, exercises and more to generate the best possible learning experience for your participants.

Maintenance
Don't worry – Keep your focus on your work! After implementing the solution we take care of related content and technological development.